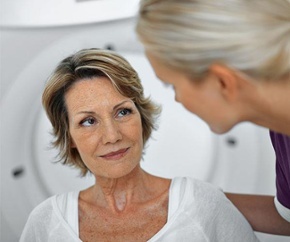 When COVID-19 slammed into the world full force in Spring 2020, many healthcare providers turned quickly to their digital capabilities, maximizing data and technology to provide healthcare services to their patients, especially their digital front doors.
Until last year they were somewhat of a side thought. Under construction but not fully realized or utilized. But with the pandemic onslaught, whether you were a hospital on the front lines or an outpatient imaging center, the digital front door took on a whole new dimension and importance.
Mistakes and improvements were made – fast. Virtual connections between healthcare providers, patients and consumers were challenging, but they were crucial in providing healthcare services. And although physical delivery of healthcare will always have a central role, going forward, technology like digital front doors will play an increasing and important part.
In this blog, I'll discuss the important elements of your digital front door – what it looks like, from the front and back.
What is a Digital Front Door?
Unlike a physical door that can be open or shut, a digital front door is open to patients and consumers 24/7, every day of the year. It actually works more like a resource center than a door, with technology that patients have already been using in other areas of their lives.
The digital front door is the first point of contact between the healthcare provider and the patient. It can evaluate patient needs and determine how they receive treatment and experience care. It engages patients from their first point of contact through the end of their care journey and focuses on providing the best possible patient experience.
There are many styles and looks for a digital front door. But there are some components all good front doors must have to provide an improved patient experience throughout their healthcare journey. The components fall into two sides. The front of the door provides the consumer experience or interface with the healthcare provider. Components on the backside work to keep the door open.
The door itself is a bridge between the consumer or patient and the healthcare provider or facility. It provides accessibility, convenience and sets the stage for a patient's experience from beginning to conclusion.
Front of the door: Patient-facing components.
Patient Portal – This is the ultimate resource room for your patient and must be user-friendly. Easy-to-use and -understand. It's where they login to their account to securely view their appointment history, pay bills, fill out assessments and pre-appointment notes, refer to medications and reach out to staff with specific questions.
Important note on scheduling: while the scheduling assistant is typically found within the patient portal, it's a good idea to also include an assistant outside the portal. Research shows most patients want quick access to book, change or cancel appointments. Having a scheduling assistant available even before they log into the patient portal area means they don't have to click through additional pages or download another app. It also contributes to an enhanced patient experience.
Billing Software – Billing software is an important function of a patient portal. But just like a scheduling assistant, it should also be easily accessible outside the portal. Quick and easy bill-paying improves the patient experience and can also lead to faster collections for the facility.
Facility Map Resources – Getting around hospitals can be daunting under even the best of conditions. Even more intimate imaging centers can prove to be overwhelming to patients who just want to focus on why they are there – not how to get there. While they can refer to maps onsite at the facility, online maps help patients map out their route before they leave the house. Mobile-friendly maps can also be used by the patient already onsite. There are also apps available that can help guide the patient to the correct location once they enter the facility. Navigation aids can save the patient time and make their experience a bit less overwhelming.
Virtual Chat/Patient Assistance – Providing a virtual chat feature can help answer any questions patients may have, whether it helps with scheduling an appointment, paying their bills, or checking on the facility's COVID-19 protocols. While chat bots are a great tool for both patients and facilities, it's also a good idea to provide a phone number patients can call if they'd rather talk to a person.
There are many other features you can include in your digital front door strategy. But the four discussed above are some of the most common. Any software that provides positive interaction for your patients and improves their experience might be considered as part of your digital front door strategy. Whatever software you choose, remember, one of the most important aspects of any of these components is compatibility. Cell phone and tablet use has taken an integral place in day-to-day communications. The software you use must be mobile-friendly.
Back of the door: The supporting framework.
While the digital front door is the patient's bridge to you and the facility, it's no good without a framework to support it. These are the internal features that support or strengthen the patient-facing features. Any applications or software that make up the backside should focus on reducing clinical workflows and automating routine tasks. That will help provide staff with more time to spend with patients.
EHR – The electronic health record is the hub of a patient's entire medical profile. Its integration with the patient portal, scheduling assistant and billing software is essential for patients and healthcare provider staff to access patient information.
Order Management Software – Order management software helps ensure the correct procedure is ordered for the patient at the appropriate time. It also helps streamline workflows, reducing back-and-forth calls and eliminating faxes. This can save time for clinical team members to work directly with the patient.
Enterprise Imaging Software – Integrated enterprise imaging helps streamline care, reduce complexity, increase efficiency, optimize clinical workflows, lower costs and enable seamless cooperation of all clinicians involved in the patient's care.
Going forward: The digital door's future in healthcare
COVID-19 brought about the future of healthcare far more rapidly than expected. The future isn't tomorrow anymore, it's today. And for healthcare providers, the digital front door has become an important and permanent tool.
For the best possible patient experience, providers must engage with patients at every step, including a quality digital front door strategy. The components of the door itself, from the patient portal to virtual chat, should make it easy for patients to access their medical information, schedule, change or cancel an appointment, and pay their bills. The supporting framework should automate routine tasks and streamline workflows so staff can maximize their time directly engaging with patients.
If you'd like to learn more about how technology is changing the healthcare industry post-COVID, read highlights of the Executive Insights roundtable, sponsored by the American Hospital Association and Siemens Healthineers.